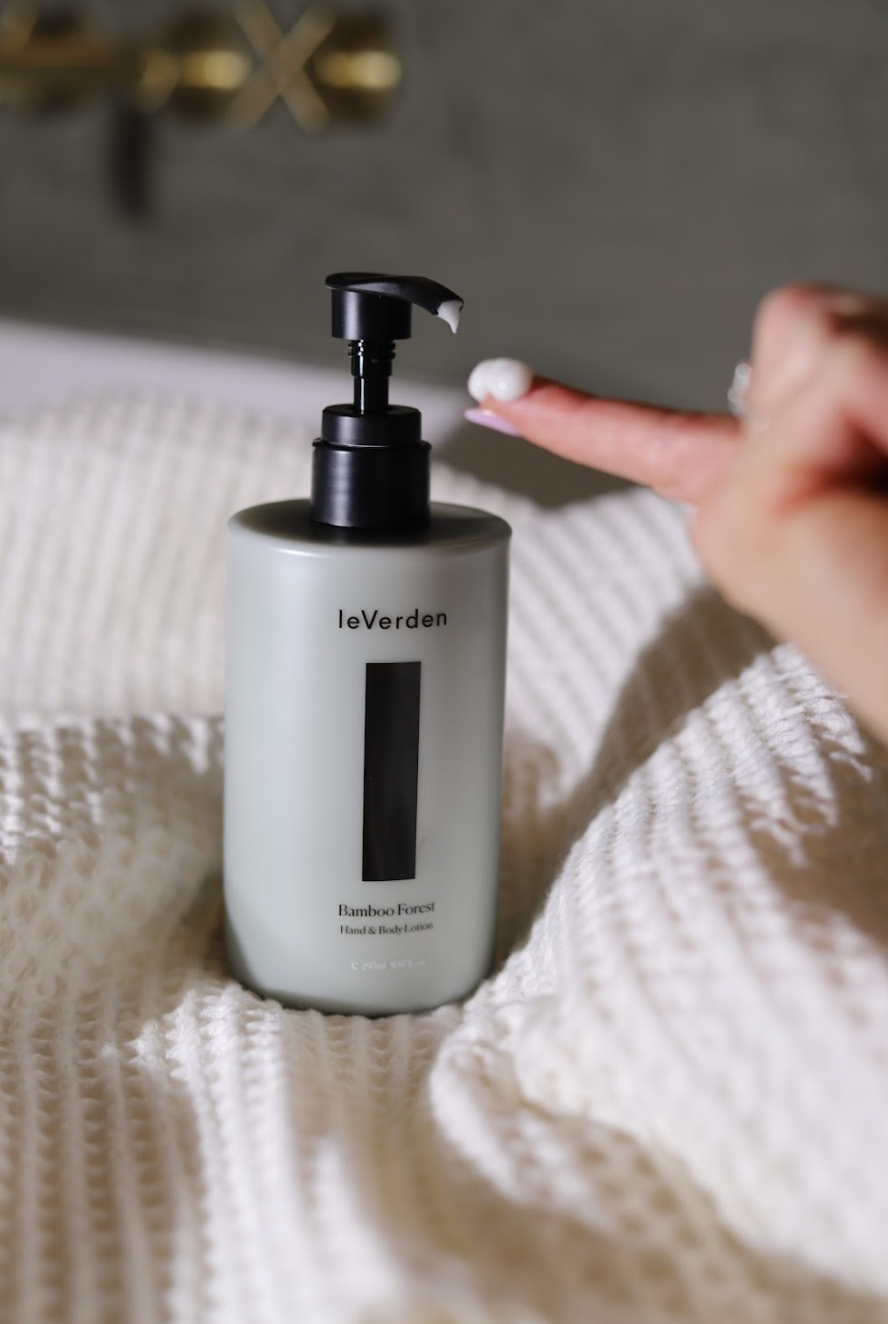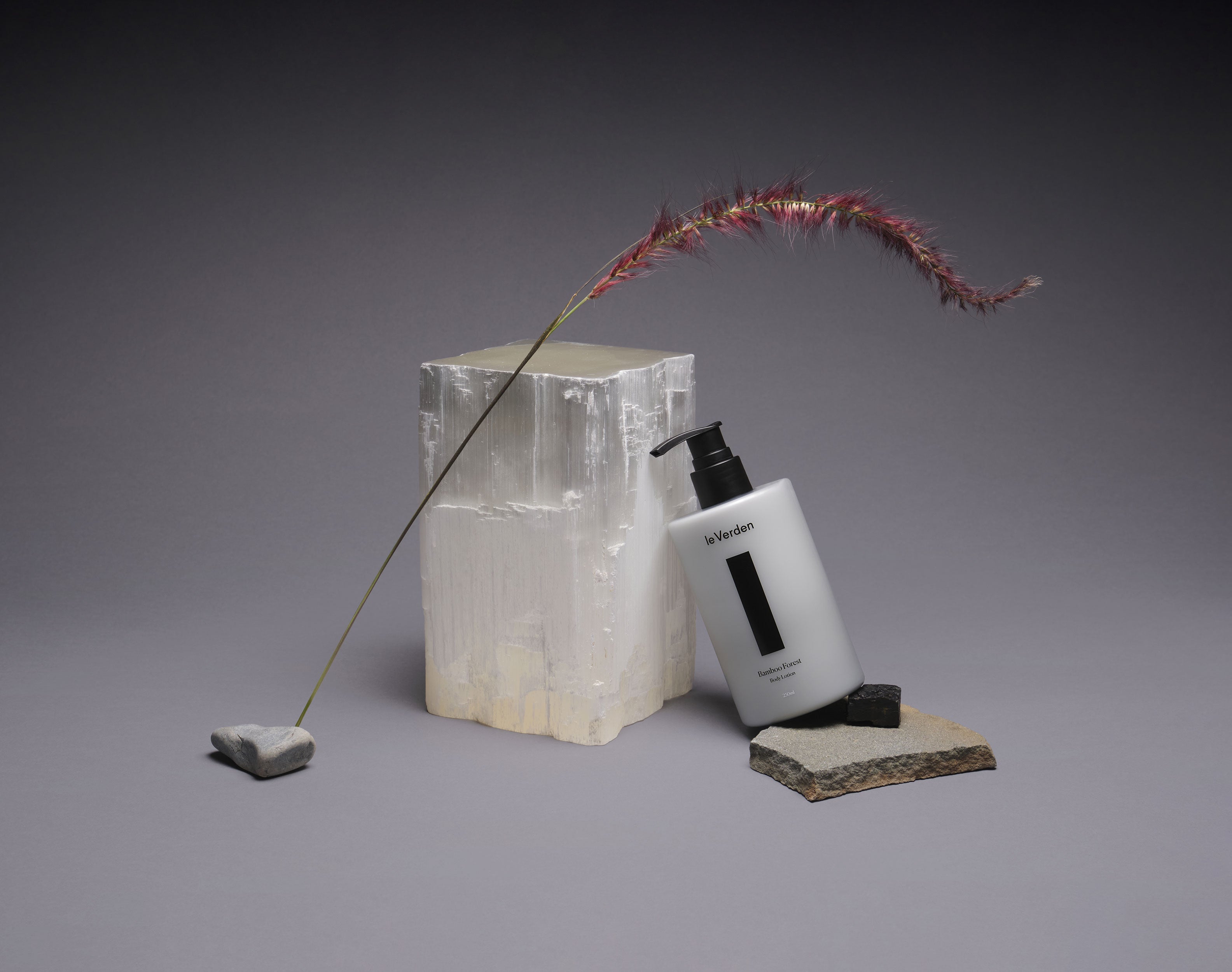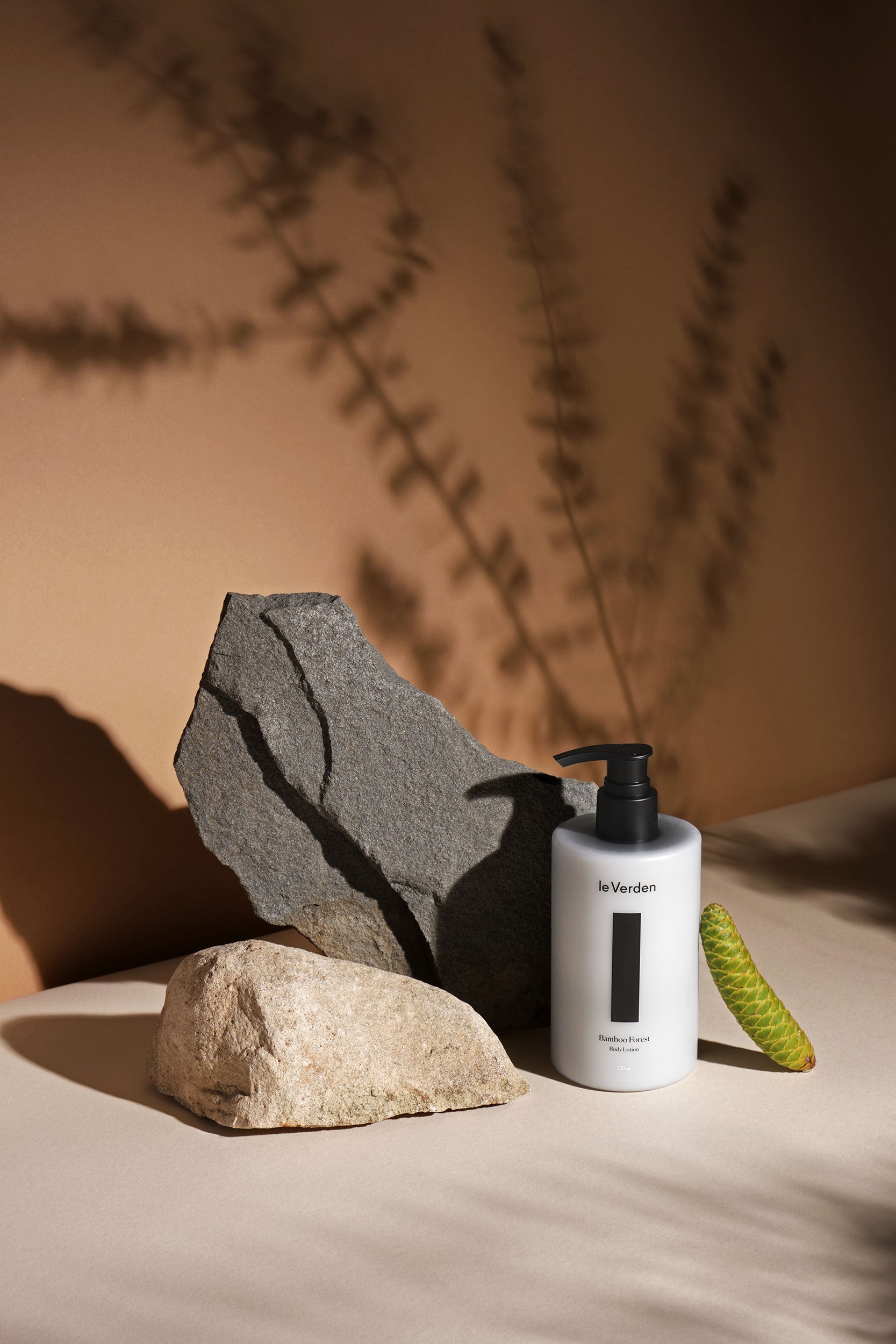 Bamboo Forest
Perfuming Hand and Body Lotion
Our Hand and Body Lotion starts as a rich cream and melts into a fast-absorbing milk once applied to skin. Freshly washed skin feels instantly softer, and dry skin feels rapidly rehydrated.
Features:
Mineral-rich Bamboo Salt to helps skin absorb essential nutrients for long-lasting hydration.
Recyclable and refillable pump for ease of application post-shower and whenever skin is thirsty.
Signature long-lasting scent of the Bamboo Forest collection crafted for bathtime aromatherapy by master perfumer 

Christophe Laudamiel (

refreshing, enchanting fragrance safe for sensitive skin

)
Benefits: Rich and nourishing, easily absorbed, deeply moisturizing
• 2 in 1, The body lotion can also be used as a repairing hand cream
• The scent is gender-neutral, for both men and women
• Gluten-free composition
• Daily use for best results
The bottle of Leverden Hand and Body Lotion is developed from post-consumer recycled plastic.
Aqua, Caprylic/Capric Triglyceride, Glycerin, Perilla Frutescens Seed Oil, Cetearyl Alcohol, Oryza Sativa (Rice) Bran Oil, Triheptanoin, Glyceryl Stearate, Jojoba Esters, Phyllostachys Bambusoides Leaf Extract, Panax Ginseng Root Extract, Mineral Salts, Ginkgo Biloba Leaf Extract, Sodium Stearoyl Lactylate, Hydrogenated Rapeseed Oil, Fragrance, Panthenol, Xanthan Gum, Ethylhexylglycerin, Tocopherol, Phenoxyethanol, Potassium Sorbate, Sodium Benzoate, Citric Acid, Canarium Luzonicum (Elemi) Gum Oil, Abies Balsamea (Fir Balsam) Extract, Coriandrum Sativum (Coriander) Seed Oil, Evernia Prunastri (Oakmoss) Extract, Helichrysum Italicum (Immortelle) Flower Oil, Pogostemon Cablin (Patchouli) Oil, Salvia Officinalis (Sage) Oil, Limonene, Linalool
This body lotion has a delicately natural scent for that spa-like experience that can be enjoyed in the comfort of your own home. Our signature scent is refreshing: find notes that remind nature and earth life with a feeling of bamboo sape, surrounded by the light peaceful swaying of the dewy leaves in the breeze, underlined with the little saltyness from the minerals of this special Korean recipe.

The Body Lotion fragrance contains pure and natural oakmoss, accompanied by hints of sage, coriander.
Our signature scent was specially created by master perfumer Christophe Laudamiel. ​​Laudamiel is a master perfumer who goes beyond fragrance to create olfactory works of art that incorporate design, culture, and chemistry. He is known for his unique approach, which he calls "scent sculpture" and has trademarked the term Air Sculpture® to describe his methodology for the development of fine fragrances for the air.

The BambooForest scent was created with the transformative qualities of the bamboo salt. Laudimiel infused traditional notes of natural oakmoss, fir balsam and sage and paired with modern elements, like the dewiness of bamboo sap and the minerality of spiked salt and mysterious woods. Like a lush, wet orchid forest.
Once applied, the body lotion diffuses an enchanting scent on the skin, which stays all day long. The virtues of Bamboo Salts provide exfoliation and deep hydration in this rich and nourishing formula. Immediately after the first application, the skin is revitalized, glowing, and toned.
I look forward to using this hand and body lotion every day. Thank You.
This Perfuming Hand and Body Lotion is a true gem. The fragrance is sophisticated and it lingers throughout the day.
The scent is captivating and it complements the wash perfectly. My skin feels incredibly pampered and the fragrance lasts all day. A definite must-have!
I'm absolutely smitten with this hand and body lotion. The fragrance is so elegant and it complements the wash perfectly.
This hand and body lotion is absolutely divine! The fragrance is so elegant and it lingers beautifully. It leaves my skin feeling soft, smooth, and delicately perfumed. I'm in love!
---
How to Use
Begin with a refreshing morning ritual or to unwind at the end of the day, adopt the body lotion by following this daily routine:

1. After a warm shower or a restorative bath with our special body wash from the Bamboo Forest collection, it's time to deeply moisturize your body.

2. Once you are dry, squeeze the pump to get the equivalent of lotion for each part of the body where you want to apply it.

3. Gently massage the lotion into your skin in small circular movements to help it absorb more deeply.

4. Throughout the day, feel free to use it as a protective hand cream. Simply apply a nut-sized drop on your hands to moisturize them and make them softer in a second!

For the full routine, pair with our bamboo forest candle to have the full luxurious immersion experience into the discovery of the bamboo forest.