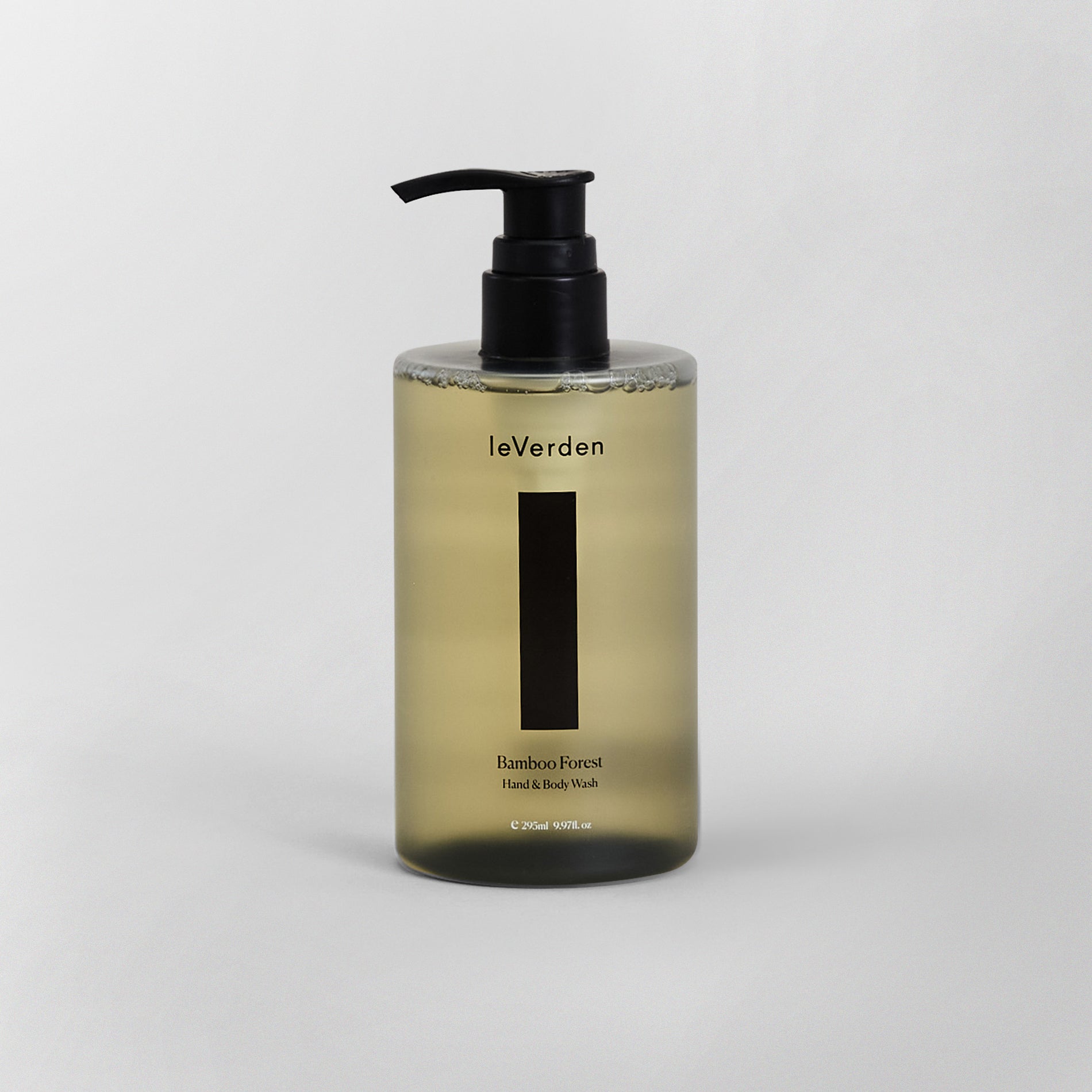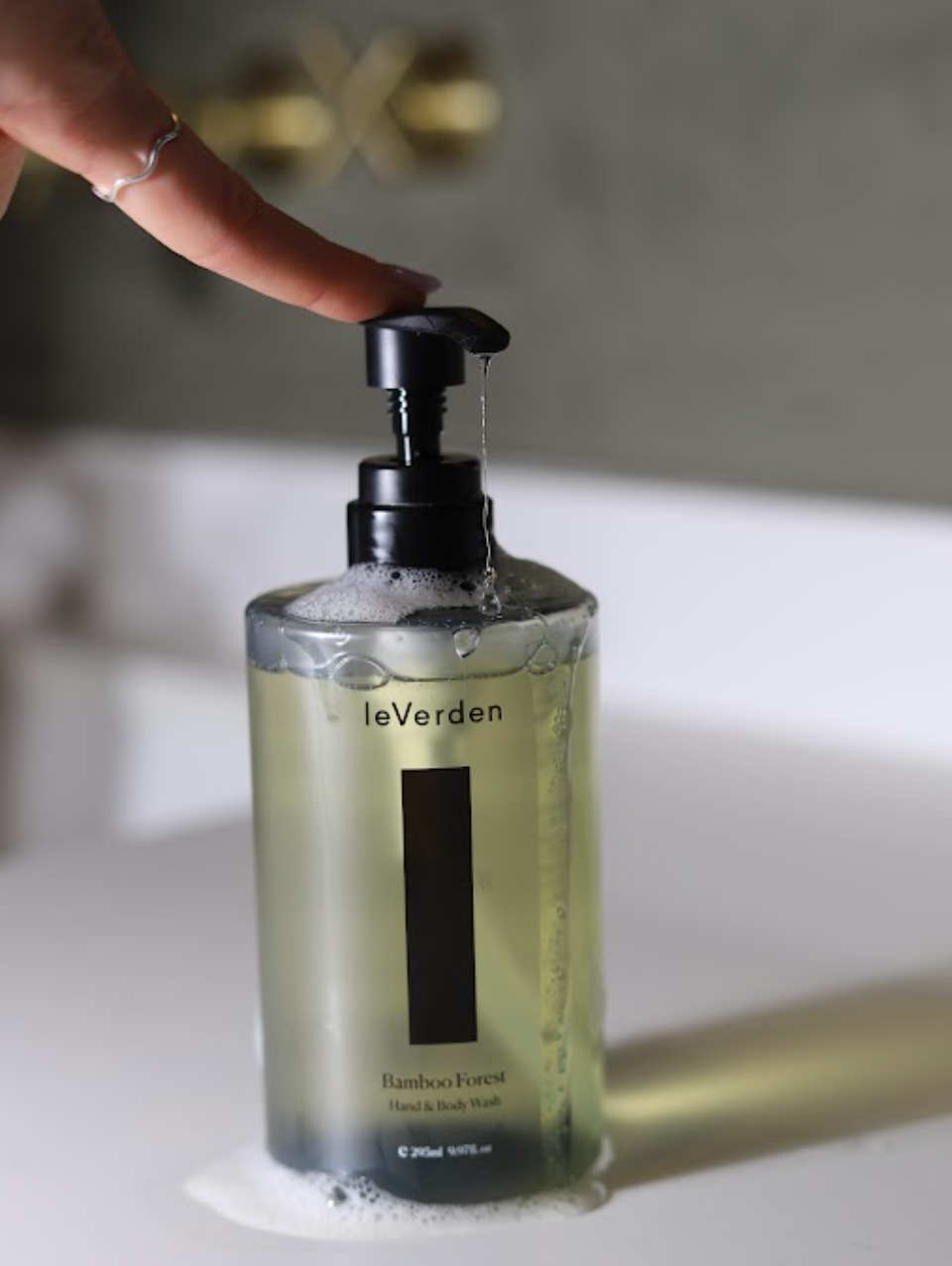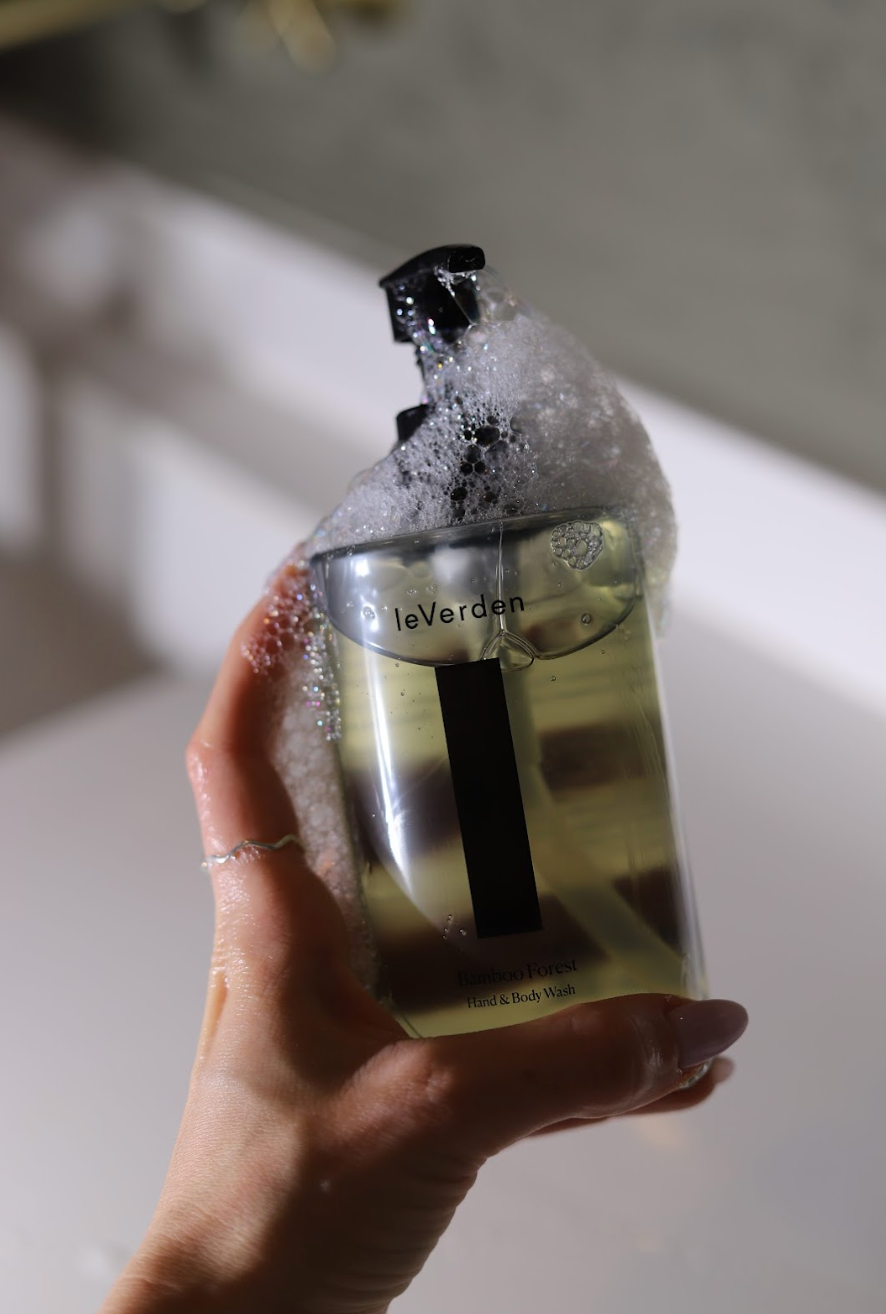 Bamboo Forest
Perfuming Hand & Body Wash
Like a detox for the whole body, our fresh-'juiced' bath and shower gel removes impurities and leaves skin feeling radiant and luminous. Just one pump of the concentrated liquid in hands or onto a body sponge creates enough rich lather to cleanse the body from head to toe. 
Features:
- Calming Bamboo Forest scent carries hints of distinctive, fresh, and luxurious aromatherapy leaving the skin with an exquisite fragrance all day long.
- Easy to use, recyclable and refillable pump bottle.
- Good for all skin types, including the most sensitive.
Benefits: Cleansing, perfuming, detoxifying, long-lasting fill and fragrance
• 2 in 1, The body wash can also be used as an effective anti-bacterial for hands
• The scent is gender-neutral, for both men and women
• Gluten-free composition
• Daily use for best results
• Hypoallergenic
The bottle of Leverden Hand and Body Wash is developed from post-consumer recycled plastic.
Aqua, Sodium Lauroyl Methyl Isethionate, Cocamidopropyl Betaine, Caprylyl/Capryl Glucoside, Glycerin, Sodium Chloride, Phyllostachys Bambusoides Leaf Extract, Mineral Salts (Bamboo Salt), Ginkgo Biloba Leaf Extract, Panax Ginseng Root Extract, Fragrance, Trisodium Ethylenediamine Disuccinate, Sodium Phytate, Sodium Dehydroacetate, Sodium Benzoate, Potassium Sorbate, Citric Acid, Canarium Luzonicum (Elemi) Gum Oil, Abies Balsamea (Fir Balsam) Extract,Coriandrum Sativum (Coriander) Seed Oil, Evernia Prunastri (Oakmoss) Extract, Helichrysum Italicum (Immortelle) Flower Oil, Pogostemon Cablin (Patchouli) Oil, Salvia Officinalis (Sage) Oil, Limonen
Bamboo Forest, our signature scent is refreshing: find notes that remind nature and earth life with a feeling of bamboo sape, surrounded by the light peaceful swaying of the dewy leaves in the breeze, underlined with the little saltiness from the minerals of this special Korean recipe.
Our signature scent was specially created by master perfumer Christophe Laudamiel. ​​Laudamiel is a master perfumer who goes beyond fragrance to create olfactory works of art that incorporate design, culture, and chemistry. He is known for his unique approach, which he calls "scent sculpture" and has trademarked the term Air Sculpture® to describe his methodology for the development of fine fragrances for the air.

The BambooForest scent was created with the transformative qualities of the bamboo salt. Laudimiel infused traditional notes of natural oakmoss, fir balsam and sage and paired with modern elements, like the dewiness of bamboo sap and the minerality of spiked salt and mysterious woods. Like a lush, wet orchid forest.
This luxurious hand and body wash with its ultra-clean formula purifies the skin. After being massaged, the aroma of antioxidant-rich Ginko Biloba leaf extract stimulates the sense and helps soothe skin. Subsequently, the ginseng root extract leaves the skin more luminous with an even tone and firmer texture.
I'm absolutely smitten with this hand & body wash. The fragrance is so sophisticated and it transforms my shower into a spa-like experience.
My skin feels incredibly soft and pampered after each use. It's a little moment of indulgence in my daily routine.
The fragrance is captivating and leaves a subtle, long-lasting scent on my skin. It's like a spa treatment every time I use it.
I've never experienced a hand & body wash like this before. The fragrance is so elegant and lingers beautifully. It's a sensory delight that leaves my skin feeling silky smooth and delicately perfumed.
This hand & body wash is pure luxury! The scent is so divine and it lingers beautifully.
---
How to Use
Because it's time to take over and wash away the stresses of the day, follow these tips to use the hand and body wash in the best way:

1. For a warm shower or during a restorative bath, use the body wash to purify and clean your skin.

2. Dispense a generous amount into your hands or onto a sea sponge.

3. Apply all over body massage into a thick lather and a rich foam over damp skin then rinse thoroughly.

4. Also, perfect to enjoy as a frequent hand-cleanser and as an effective anti-bacterial. Use a squeeze and scrub your hands. Rinse away for clean, soft hands with a heavenly smell.

For the complete routine, pair with our Amethyst Ki Bath Soak and finish with our Hand and Body Lotion to have the full luxurious immersion experience into the discovery of the bamboo forest.